About Lisa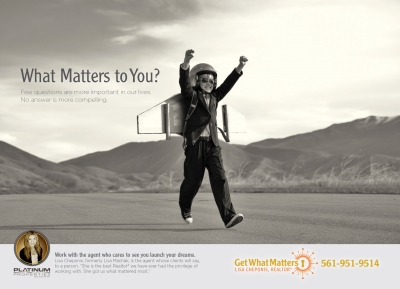 "Lisa is without question the agent whose entire focus is helping you get what matters."
Lisa Cheponis (formerly Lisa Machak) brings to her real estate career a wide range of skills-- and a wealth of impressive accomplishments-- that serve her customers uniquely and superbly.
Not only is she a consistently award-winning producer in real estate, but Lisa is also a strong and experienced negotiator, a marketing powerhouse, and a first-rate interiors home stager.
This combination of skills and experience makes Lisa the complete package when it comes to any customer's real estate needs, whether buying or selling.
Lisa's Career Background:

Just prior to launching her own stellar career as a Realtor® in Florida, Lisa was based in Chicago, where she created, wrote, and oversaw the successful marketing campaign for one of the nation's top real estate brokers. She also staged luxury homes ranging into the tens of millions of dollars for this broker, thereby helping those properties stand out and sell at the highest and best price.

Once in Florida, Lisa was hand-picked to work for then-America's-Best-Builder, WCI, where she quickly rose to the top of the company's entire sales force, nationally.
Again and again, Lisa helped customers learn the Palm Beach County area, understand the neighborhoods, connect with local schools and places of worship, scour the market and compare homes, and ultimately buy their dream home.
And again and again, Lisa won WCI's Platinum Sales Awards, setting records in the industry for closing ratios.
When she chose to make a move from on-site developer sales to go to work at Prudential, Lisa earned the Prudential Chairman's Circle Gold Award for her continued real estate sales success, as she was recognized as one of the top REALTORS® in the nation.
All of which means that whether you are looking to buy or sell a property, Lisa knows how to do it.
Her background is both unique and powerful, making her the ally you want when listing a home for sale, and the ally you want when searching the market and negotiating to buy your Florida dream home.
Education, Other Professional Experience, and More:

Lisa graduated from Northwestern University in Evanston, Illinois, and immediately began a fast-paced corporate career in advertising, with one of the Fifty Best Companies to Work For, the Leo Burnett Company—first as a media planner/buyer (planning and negotiating national television media buys for the demanding client Procter & Gamble) and then as a consistently-successful writer & Copy Supervisor in the Creative Department (conceptualizing, writing, and shooting national and international ad campaigns for major brands and Fortune 500 companies).
Lisa has extensive experience in presenting ideas and "painting the picture" of an exciting idea... or of an image... or... of your home you want to list and sell. She can help a prospective Buyer imagine living there; she can help them fall in love with it. This ability is due not only to her experience presenting, selling, and bringing to life innumerable advertising ideas and campaigns, but is also due to her extensive experience studying and practicing all aspects of presentation and effective communication. Lisa studied improv at and graduated from The Second City in Chicago. She also performed regularly on stage and was on staff as an acting teacher at the Theatre of Western Springs, just outside of Chicago.
Prior to coming to Florida to "eat, sleep, and breathe real estate," Lisa also served on the Board of the Hinsdale Center for the Arts and, as Marketing Chair, and as such, developed an exciting new and highly successful marketing and special events campaign for the Center.
Lisa grew up backpacking and lifeguarding in Pennsylvania, where she was active in student government, the editor-in-chief of her Columbia first-prize-winning high school yearbook, as well as a decorated varsity cross country runner who captained her record-setting State Champion high school team-- a team that made the record books and made history, instilling in Lisa a life-long love of teamwork, hard work, perseverance, and excellence.
Indeed, in everything Lisa does, she aims for excellence and consistently brings genuine passion, contagious energy, and total commitment to the task at hand, always delivering first-rate results.
Affiliations, Awards, Performance
Florida Gold Coast Prism Award Winner for 34-Million-Dollars-Plus Sales Volume Within a Single Year
Member of the National Association of Realtors
Certified Negotiation Expert (CNE)
Prudential Chairman's Circle Gold Award Winner
Top 4% in Nation in Sales Volume
Highest Closing Ratio in On-Site Real Estate Sales
WCI Platinum Sales Awards
Featured as top award-winning REALTOR® in The Wall Street Journal
Top of national sales force, WCI
#1 in Evergrene Home Sales
Member of the Forum Club of Palm Beach
Lifetime Member of The N Club, Northwestern University, Evanston, Illinois
Recipient of the American Legion Award
"I cannot say enough good things about Lisa. I feel sorry for those who end up with less experienced Realtors. Being represented by Lisa gave us a huge advantage and helped us get terrific results even beyond what we'd hoped. When she listed and sold our home, we needed to move fast, and the market was awful for anyone trying to sell. Lisa beat the clock-- and got us the highest price in the neighborhood in years, by far! Lisa went above and beyond, and got us results no one thought possible. We sent her flowers after the closing... Her devotion to our "cause" was just beyond great."
- V.S. and D.S., West Palm Beach Historic District Sellers
"Over the years, we have bought and sold numerous homes, and Lisa stands out as the best Realtor we have ever worked with. No question. Lisa is both the most responsive and the most proactive of Realtors, and she was a pleasure to spend the day with, every day we searched for homes. Her knowledge of the market was impressive, as was her ability to guide us through to a successful closing on a tricky short sale. We have such a high opinion of Lisa and her abilities as a Realtor, we were wishing we could send her up north to sell our home for us there, too. We were therefore thrilled to realize that Lisa was willing to interview agents for us and help guide us in what to ask, then refer our listing to the best fit for us, an agent in that local market. It's great to have someone as smart and devoted as Lisa watching out for us. Thanks, Lisa!"
- D.D. and E.D., Palm Beach Gardens Buyers
"There is good reason no one out-sold Lisa at Evergrene: her commitment to each and every customer is absolute. She wants only the best for them; she truly cares. And she knows her stuff-- she's always the agent I wanted to get my clients in front of, because I knew she would help them understand the property better than anyone. For years, I wanted her to join our great team when I was Broker at VIP, and I was thrilled when she did join me there and then continued to work with me, at Illustrated Properties."
Andrew Russo, Broker/Agent Illustrated Properties
"Our home was on the market with little satisfactory market response, prior to when we were able to list with Lisa. Our home sold within two weeks of listing with Lisa. We are grateful for her expertise and her terrific service."
S.S. and E.S., Evergrene Sellers
"Lisa is the kind of person who makes things happen. She gets results. She has amazing passion and drive. Her energy is unstoppable. She is a class act who has a genuine interest in her customers and always acts in their best interests-- always. These traits are fundamental reasons why Lisa broke sales records for WCI. She sells with such a sincere commitment to each customer... It's who she is. And it's why she has such impressive sales results and a proven track record of consistent success. Of the hundreds of sales professionals with whom I have worked over the years, Lisa is an absolute standout, and absolute star. When I think of "The Best," I think of Lisa."
Lou Paratore, Old Palm Project Manager & WCI Sales Director
"In this market, it's key to have someone to count on. Thanks, Lisa, for helping me evaluate every good property in Jupiter, then for helping me navigate through a complex transaction to a great closing. And finally, for selling my first home swiftly and at a great price in a down market. You were patient, persistent, and you know what you are doing!"
J.S., Jupiter Buyer
"Lisa is awesome! Thanks for finding us the home of our dreams, for holding our hands through the process, and for treating us like family! As a young couple buying our first home, we were nervous and uncertain about what to expect, but your knowledge of the market and willingness to show us everything we needed to see helped us so much. Plus your patience in explaining everything... All of who you are helped us gain the confidence we needed to buy a home we absolutely love and can't imagine life without. Working with you couldn't have been better!"
K.P. and B.P., Jupiter Buyers