What Matters to You?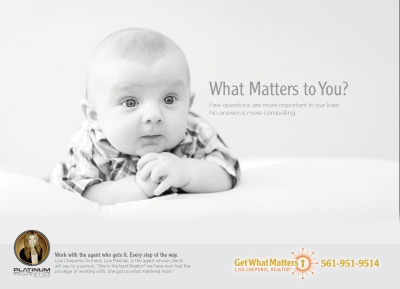 What matters to you?
It's one of the most important questions of our lives.
For each of us, the answer is sometimes obvious, sometimes elusive.
And of course, as we go through our lives, what matters to us can change.
Lisa gets that. Just as she also understands that when buying or selling a home, the financial ramifications and the life changes that inevitably accompany the "transaction" can be monumental.
She knows that our very life dreams -- our travels, our time with friends or family, our time for leisure or important personal growth-- these are affected when we make the decision to buy or sell a home.
Lisa cares to understand what matters to you, and to help you get it. For instance, if your dream is to travel after you retire, that matters. And if buying the bigger home might mean you have fewer resources to experience all of your dream travels during your retirement, Lisa won't lose sight of that. Nor will she ever try to convince you to buy something that compromises your goals and dreams, just to get herself "the bigger sale."
She always wants what's best for you.
With Lisa, it's all about getting what matters. What matters to you.