Lisa Cheponis
Palm Beach Area Luxury Real Estate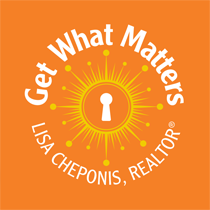 If you want to buy or sell property in South Florida, you want Lisa in your corner.
Lisa Cheponis (formerly Lisa Machak) is in the business of real estate for one fundamental reason: "To help people get what matters most to them."
This is what drives her. And this is why her customers are consistently happy.
It's also why people enthusiastically call Lisa "the best REALTOR® we have ever worked with.
What Makes Lisa an Exceptional Real Estate Agent?
It's not simply that Lisa was consistently ranked #1 in sales volume (and in closing ratios), year after year, when she worked for a top national real estate developer. Nor is it just that she then rose to the top 4% in the nation in residential real estate sales, all while raising three daughters.
It's much more than her many awards and impressive sales numbers; it's the person Lisa is.
The fact is, Lisa could choose to work in practically any field, but she loves working in real estate. And she is deeply devoted to giving every customer first-rate service. She is devoted to what matters to them.
Her service-oriented philosophy and deep commitment, combined with ethics, tenacity, and smarts... That's what makes all the difference: "the Lisa difference."
Lisa's background as a top negotiator within the corporate world gives every customer an advantage, whether buying or selling. Furthermore, Lisa is among a small group of only about 1% of agents nationwide who have earned the designation of Certified Negotiation Expert (CNE).
Lisa's natural, quick-on-her-feet intelligence is soon obvious to all who work with her. People who work with her also come to see that Lisa is caring to the core-- and a true supporter of those who buy or sell homes with her. She is genuinely devoted to helping her customers achieve their immediate real estate goals... or life dreams.
Furthermore, Lisa's knowledge of contracts and her attention to detail on contracts are a huge benefit to her customers. She knows how to keep transactions clean and trouble-free-- an ability not to be underestimated. (Although Lisa believes a trouble-free transaction should be the standard, one is wise to be aware that a less vigilant agent can overlook details and cause serious problems-- and tremendously stressful situations-- on what might otherwise have been a smooth transaction.) Lisa is always on her toes, watching all the key details on a contract and in a transaction, helping her customers have the easiest, most hassle-free transactions possible.
Immediately after graduating from Northwestern University, Lisa's fast-paced corporate career with powerful, blue-chip & Fortune 500 clients gave Lisa extensive training & experience in more than negotiation skills. So, too, did her demanding position as a licensed Realtor® selling properties for one of the top developers in the nation. In these positions, Lisa honed her skills in all aspects of sales. Lisa became a master of networking & leveraging her good relationships with other agents, making them eager to bring their contacts & leads to her listings, to help sell her listings ahead of competing Realtors®-- always to the benefit of her customers. She also learned to excel in all aspects of complex transactions, in high-pressure, quick-thinking, competitive situations.
Lisa even has a keen eye for staging-- and extensive experience staging multi-million-dollar homes-- which gives her Sellers an instant advantage over the competition.
Indeed, Lisa is nothing short of an exceptional agent and a rare find.
She is an outstanding, smart, tenacious, connected, detail-oriented Realtor® with a exceptional skill set that benefits her customers, every step of the way.
And she has a commitment to service that is springs from her very core. She cares deeply to help each customer get the best result of all: what matters most to them.